The end of August signals the gradual arrival of cooler temps in the American Southwest. By mid-September temperatures are moderating to the point that moderately strenuous photography hikes are not unreasonable. Recently, my friend Laurent Martres and I visited a new hike location and revisited another.
The first of the fall season was a twelve mile round trip day hike along the historic Boulder (Utah) Mail Trail to the mouth of Death Hollow and return. Until the 1920s, mail was delivered to Boulder, Utah from Escalante, Utah by pack animals over a very arduous and sometimes dangerous route. The Mail Trail, as it is called, roughly follows the same path of the early telephone line that connected Boulder to the outside world. The hike begins over a moderately easy route for the first several miles, gradually descending across high desert grassland and then arriving at an area of slick rock and a climb up to a higher plateau, then descending again hundreds of feet down over another expanse of slick rock into Death Hollow. I've posted a series of documentary images from this hike in a new gallery addition to this site:
http://cdwood.zenfolio.com/p2335131
Late September/early October is typically the time of year to view autumn colors at higher elevations. I recently did a full moon hike from the trail head at Lava Point in the Zion National Park back country, to the West Rim. My last hike of the Zion back country, from Kolob to the main canyon, was over ten years ago in springtime, with overnight camping along the way and hiking during the daytime. Hiking under a full moon with pleasant temperatures is an amazing and totally different experience. Using a powerful new LED headlamp that is actually bright enough to throw a beam of brilliant white light for several blocks, I was able to sweep the areas around the trails as we hiked, seeing deer and other tiny eyes reflecting the brilliant light back. The other 'tiny eyes' turned out to be spiders in the grasses and along the trail. The numbers of arachnids out at night is truly amazing!
The distance to the West Rim overlook is approximately eight miles but we arrived just in time for dawn and sunrise photography, and to witness the amazing transition of light and color from dawn to sunrise and daytime.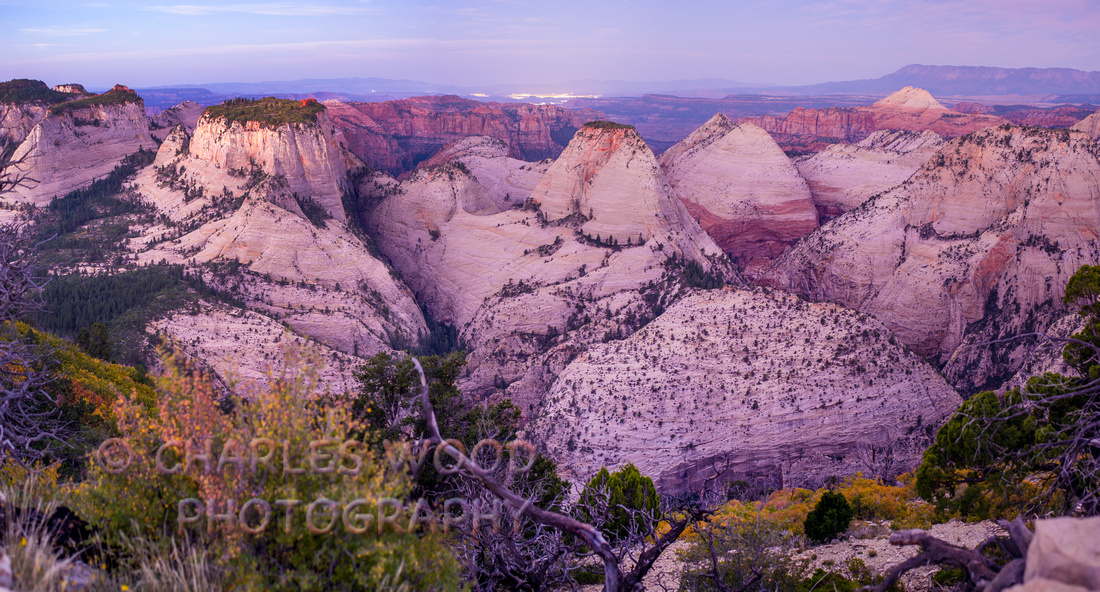 A VIEW AT DAWN FROM WEST RIM TRAIL, ZION NATIONAL PARK - SHOT WITH PENTAX 645D
FIRST LIGHT AT SUNRISE, WEST RIM, ZION NATIONAL PARK - SHOT WITH PENTAX 645D
Retracing our route after completing our morning photo shoot, we were treated to some amazing fall colors, particularly on the return descent into Potato Hollow. The dramatic golds and red colors currently visible at the higher elevations in Zion National Park would seem to indicate that we will witness an outstanding year in the main lower canyon within a week or two.
FALL COLORS, WEST RIM TRAIL DESCENDING INTO POTATO HOLLOW
ZION NATIONAL PARK BACK COUNTRY - SHOT WITH PENTAX 645D, 35MM LENS/POLARIZER
PHOTO TIPS
Taking advantage of the magenta and purple hues from the pre-sunrise alpenglow means using a tripod and setting your camera on manual, rather than an automatic exposure mode. The level of light at pre-sunrise will be too low for handheld shots. You should also change your ISO (sensitivity settings) to ISO 100 or 200. Letting your camera automatically adjust the ISO to enable handheld shooting is a tradeoff. The camera will select a higher ISO setting resulting in potentially much noisier (equivalent to film grain) images with poorer color, contrast and detail.
To obtain the richest, most brilliant fall colors from trees and foliage, a polarizer is a must-have item. By shooting foliage at a 90 degree angle to the sun and adjusting the polarizer, you can dramatically reduce reflections that wash out or weaken color.
NEXT UP:
I will be away during the middle of the month for a back country hike in the Needles District of Canyonlands National Park, over near Moab, Utah. More to come.