It's Sunday evening New Zealand time and Kathy and I have arrived in Te Anau, considered the gateway to Fiordland National Park, the location of Milford Sound and the famous Milford Trek. Enroute, we spent an overnight at the small town of Fox Glacier. While I wasn't particularly impressed with Fox or Franz Joseph Glaciers, I thoroughly enjoyed time around Lake Matheson. My first visit was an attempt to photograph Mt. Tasman and Mt. Cook reflections. Unfortunately, there was just enough of a breeze to disturb the lake surface, making a reflection shot an impossibility. My next thought was to capture a sunrise reflection, so early the next morning I headed back to Lake Matheson. Arriving at the lake I found ground fog made that an impossibility. But arriving before sunrise and under a full moon, I took advantage of the situation to capture a shot of the moon and the mist of the fog rising around trees in a pasture next to the lake. Unless noted, all images were taken with a Pentax 645D digital format camera.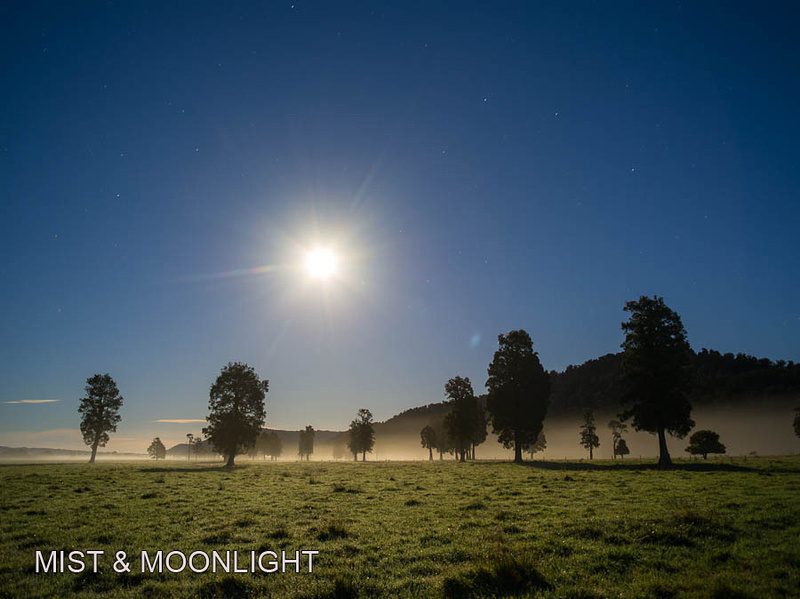 I also grabbed a shot of Mt Tasman and Mt Cook illuminated by the full moon. This shot almost looks like a daytime shot although the faint stars in the blue sky give it away as a night shot. The moonlight is the same color temperature, for all practical purposes, as sunlight, only dimmer, because it is reflected sunlight. All that is required to capture moonlight images is a tripod and a camera with manual controls allowing time exposures.


Two days later on the motor trek to Milford, we took a diversion to the southeast coastal town of Oamaru, just north of the beach that is the home of the Moeraki Boulders, spherical rocks that were formed on the seafloor bottom in a process similar in some respects to the way a pearl is formed. Do a Google search if you want to learn the details. They offer unique photographic opportunities but not during the midday when the tide is low and the tourists are out. The first picture is a mundane shot of one of the boulders in the afternoon, no water, just seaweed surrounding it. Not a particularly interesting picture. The next series of images were taken Sunday morning in a light rain, using a tripod and time exposures to allow the flowing water to create a silky, surrealistic look. The overcast steals almost all the color creating a monochromatic, black and white look to the images. I find them far more interesting than shots I took the previous afternoon.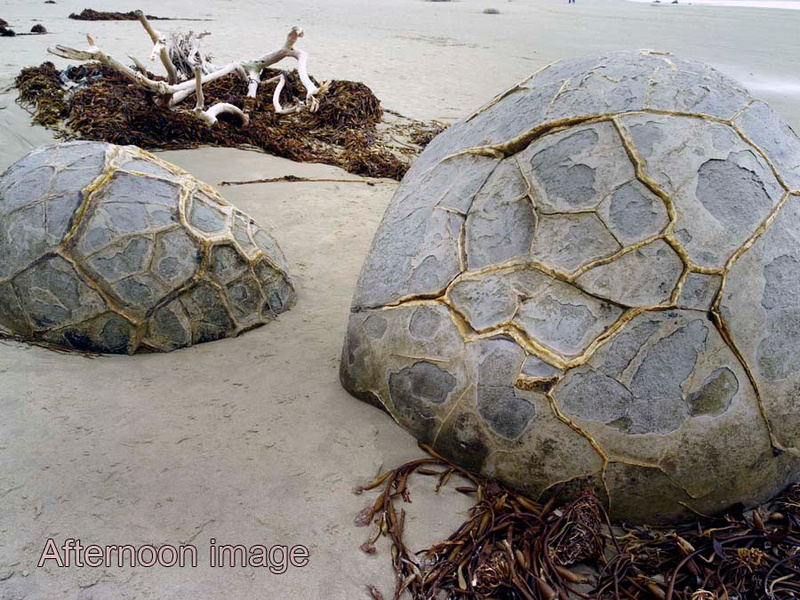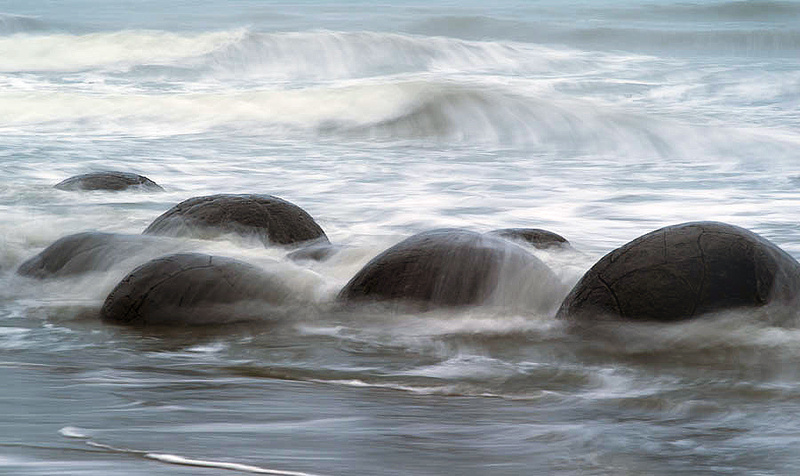 I'm looking forward to some excellent landscape shooting while here in the Milford area...more to come in a few days.